trekkin'
encouraged me to create this topic even though I'm still new here (I hope I created it in the right place, if not, feel free to move it, of course). It's not my style to run into a forum and create topics on my first day, usually, but hey, we all do things that aren't our 'style' from time to time, right?
So... what can I say here... I am a HUGE fan of Sir Patrick Stewart. (Obviously.) And I have made it my biggest hobby and favorite pastime to keep track of what he's doing career-wise. So, if you have any Sir Patrick related questions or something, feel free to ask me any time. I'll try to answer them as best as I can. I know he's one of the most popular actors in the Trek fandom, and I'm often quite happy about the amount of love that many Trekkies seem to have for him and how enthusiastic they are about the character of Jean-Luc Picard. (I count myself in as well, up to a certain degree at least, although I separate actor and role completely in order to avoid... conflicts with myself, lol.)
Without much further ado, Imma just go ahead and post the latest bit of news that I have of him.
Next year = Olympic games in London. Which means the BBC does quite a few TV specials. (I don't exactly get what Shakespeare has to do with the Olympics, but what do I know? *lol*) And they have a Shakespeare special as well - and guess who's part of it? Yeeees. Sir Patrick plays John of Gaunt in the
Richard II
adaption. The BBC made a little trailer that can be seen
here
. (You have to scroll down a bit and forward the video a bit until you get to the Shakespeare part.)
If you don't want to watch the video, I made a screencap: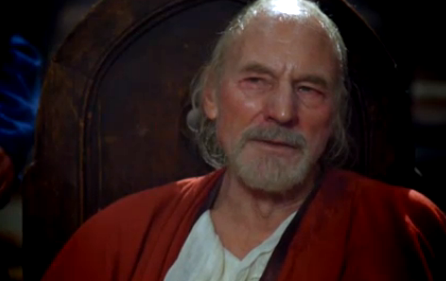 So, for those of you who want to see Sir Patrick on TV again in other stuff than
American Dad
(which I love, don't get me wrong!), this will be your chance.