http://www.delfi.lt/...s.d?id=26261589
This article is in Lithuanian. I'll provide English translation until the end of the next week (ending December 12/2009)
For those, who can read Lithuanian - here is the article:
Vietoj erdvėlaivių termoizoliacinių Å¡arvų – galingas magnetinis laukas
www.technologijos.lt
2009 lapkričio mėn. 30 d. 13:24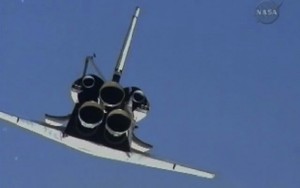 ©
Reuters/Scanpix
Europos kosmoso agentūra (ESA), bendradarbiaudama su kompanija "EADS Astrium" bei Vokietijos aerokosminės pramonės tyrimų centru DLR kuria naują Å¡iluminės apsaugos technologiją, kuri būtų panaudota į Žemės atmosferą grįžtančių kosminių aparatų apsaugai.
IÅ¡ kosminės kelionės į Žemės atmosferą grįžtantys erdvėlaiviai patiria ekstremalias temperatūrų perkrovas. Dėl trinties tarp erdvėlaivio korpuso ir atmosferos dujų labai sparčiai kyla pavirÅ¡inė temperatūra ir dujos tiek įkaista, jog susidaro plazma.
Nenaudojant apsauginio termoizoliacinio sluoksnio, toks erdvėlaivis per kelias akimirkas susprogtų – panaÅ¡iai kaip į Žemės atmosferą įskrieja vidutinio dydžio meteoritai.
Kol kas yra taikomos dviejų tipų apsaugos technologijos. Vienu atveju naudojamos medžiagos, kurios nuo per didelės temperatūros palaipsniui dega, tačiau apsaugo vidinį erdvėlaivio korpusą nuo perkaitimo. Kitu atveju naudojamos izoliuojančios medžiagos – pavyzdžiui NASA
Å¡atlų
korpusai yra padengti tokiomis termoizoliacinėmis plokÅ¡telėmis.
Tačiau abu apsaugos būdai turi savų trūkumų ir reikalauja kruopÅ¡taus viso korpuso padengimo, prieÅ¡ingu atveju gali įvykti avarijos. Todėl mokslininkai dairosi kitų problemos sprendimo būdų. Vienas iÅ¡ jų - vietoj įprastų pavirÅ¡inių termoizoliacinių medžiagų panaudoti kosminį aparatą "apgaubiantį" galingą magnetinį lauką, neleisiantį įkaitusiai plazmai prisiliesti prie aparato korpuso pavirÅ¡iaus. Teorinis apsaugos modelis jau sukurtas ir mokslininkai planuoja atlikti realų eksperimentą. Tam bus panaudotas testinis gelbėjimosi modulio "Volan", pritvirtintas prie raketos neÅ¡ėjos, kuri bus paleista iÅ¡ Rusijos povandeninio laivo.
Mokslininkai ketina panaudoti superlaidumo būsenoje esančią induktyvinę ritę, kurią pritvirtins prie kosminio aparato priekio. Ritė turės sukurti stiprų apsauginį magnetinį lauką. Jam sukurti ir palaikyti reikalinga valdymo schema ir maitinimo blokai bus patalpinti "Volan" modulio viduje. Į kosmosą jį nuskraidins raketa neÅ¡ėja "Volna", paleista iÅ¡ povandeninio laivo. "Volna" turės skristi balistine trajektorija, o besileisdamas aparatas įskris į atmosferą greičiu
Mach 21
(beveik 25 000 km/h) ir po to nukris Kamčiatkos rajone.
Gauti tyrimų rezultatai leis įvertinti Å¡io metodo realias galimybes ateities kosminių laivų apsaugai.