Favorite Dairy Product?
Posted 12 April 2006 - 01:47 PM
Milk.
Skim for cereal
Half for White Russians
Wanna play? Official rules
here
---
Posted 15 April 2006 - 11:19 PM
Milkshake for me but i love dark chocolate too.

" JOIN THE ANTI-BUNNY ALLIANCE AND STOP THEM FROM WREAKING HAVOC IN AUSTRALIA!"
---
Posted 15 April 2006 - 11:24 PM
cheese. i use it on damn near everything. i especially like to have a couple dozen crackers with cheese before bed.
and yes, wallace is my idol.

Vancouver...While I may not live there anymore, this is the city I still call home.

---
Posted 10 May 2006 - 01:15 AM
Too tough to decide. For the main meal probably yogurt and cheese, also with salty food. However, for desert and sugary food, I would say milkshake, ice cream and chocolate. I love all dairy products or most of them.

It is the burden we must carry!
The Wrap Trail is still hot and it will lead us back to Enterprise!
Were steppin Up a Level for the silver will never settle Enterprise is taking the Gold Medal!
Season 5 will prevail!
---
Posted 13 October 2007 - 03:23 PM
Cheese. Especially Swiss Cheese

---
Posted 13 October 2007 - 06:39 PM
Mmm....Ice Cream Ice Cream is my most favorite. Milkshakes comes 2nd

---
Posted 14 October 2007 - 10:34 AM
I'll have to go with cheese.
---
Posted 19 October 2007 - 08:51 AM
CiCi, on Oct 14 2007, 10:34 AM, said:
I'll have to go with cheese.
I ditto that...I am addicted. Need sugar alcohol to balance out effects.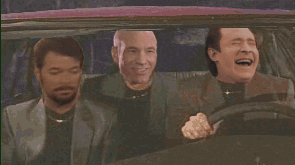 ---
Posted 19 October 2007 - 09:08 AM
I love Cheese. There is this one restaurant here in town called Astros where they make a lasagna that is perfect. A recipe perfected by old Italian women in black dresses and served with enough cheese to clog several arteries
Atheism is not a religion. It is a personal relationship with reality.
Quis custodiet ipso custodes
My Blog
---
Posted 13 November 2007 - 06:57 PM
We sure seem to have lots of Rattattouilles here... My favourite dairy product - no surprise there, i could eat it all year long - is ice cream. No cheese can have so many so distinct tastes...

I amar prestar aen, han mathon ne nen, han mathon ne chae a han noston ned 'wilith...
Olórin (Gandalf):
Losto Caradhras, sedho, hodo, nuitho i 'ruith!
Legolas:"Boe a hyn... Neled herein - dan caer menig."
Aragorn:"Si, beriathar hyn ammaeg na ned Edoras."
Legolas:"Aragorn, nedin dagor hen-ú-erir ortheri. Natha daged dhaer."
Aragorn:"Then i shall die as one of them!"
Lle quena i'lambe tel' Eldalie? (Do you speak Elvish?)
---
Posted 13 November 2007 - 07:15 PM
Cheese glorious Cheese! I have cut back but it is NOT easy. I love the stuff!

---
Posted 05 December 2011 - 03:07 AM
yummy yummy cheese!!

---
Share this topic:
---
1 User(s) are reading this topic

0 members, 1 guests, 0 anonymous users