1
Random Links: Trek.fm, Colouring in and ST Unity animation
Posted by
Kirok
, 24 June 2011 · 376 views
I'm posting more stuff on my Facebook page recently because it is just sooo easy to do - you add the link, write a comment about it and it is online! Done in ten minutes with a neat little thumbnail, title and blurb direct from the website, simple! If it is something significant, I'll come onto TU and start a thread about it but all too often it is just a little heads-up about something that I've seen or had pointed out to me.
I'm going to try just doing a quick copy/paste into my Blog here, after all, that's what it is for!
Trek.fm is a class act! Graphically stunning! The three minute Hyperchannel vidcast especially is flawless video editing - beautiful!
Trek.fm - Home
trek.fmNews, four different podcasts/vidcasts, Articles, Episode Index, TrekTrivia game and Newsletter! All distributed across Facebook, Twitter, iTunes and through their own website!
A cute way of involving your kids - esp. useful for Trek fan clubs! - and encouraging their artistic talents at the same time. Heads-up from Star Trek Update http://twitter.com/#!/StarTrekUpdate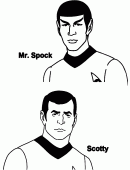 Coloring pictures of Star Trek
www.coloring-pictures.net
Drawings of Star Trek. Pictures of the Enterprise with the captain kirk and Mr Spock for coloring.
Grethor take it! I'm always finding stuff online I should have seen ages ago! Tanveer has made a new website for ST Unity and they are talking about their animation coming online after the audio drama segues into it as a four part mini series.


Star Trek Unity
www.startrekunity.com