Star Rabbit Tracks Season 2, Episode 1
"Jackalope And Hutch"
The Jackalope is faced with a new enemy from very deep in space, something that makes even the Captain's fur stand on end.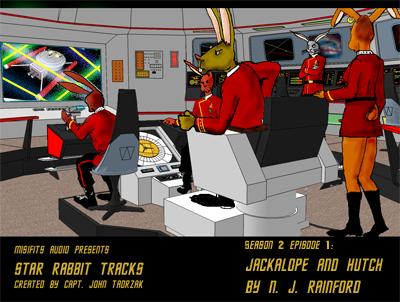 [17:46m]: Download
Written by N. J. Rainford
Editing by Jim Smagata
Produced by Capt. John Tadrzak
Post-production, music and sound effects by James W. Smagata

Featuring the Voice Talents:Alex Gilmour
as Capt. Peter Rabbit
Bobbi Owens
as Lt. Tonya Ears
Rocky Rungano
as Commander Thumper
Michael Liebmann
as Dr. Harvey "Hopper" Smith
David Maciver
as Lt. Taddy McZacker
Jules Ismail
as Robot Alpha
Stefania Lintonbon
as Robot Delta
Roy P. Cunningham
as the Announcer
Our Wonderful Special Guest was:Joe Stofko
as "The Hutch"
People don't know how to classify Star Rabbit Tracks: is it a Star Trek audio drama? Beatrix Potter appropriation? Is it for kids, for adults, should it be taken seriously, should it be taken for laughs?
The answer is, yes.
Certainly it is primarily designed to be accessible to kids, I'd say pre-teens would appreciate it most because it takes their childhood icons, the rabbits of Beatrix Potter, and puts them into an iconic SciFi plotline. The thing to remember about successful kids media is that it is deeper than you might think. One rule of thumb I read was that you should write about kids who are a year or two older than your prospective audience, because that is who they are interested in, that is who they identify with and roleplay as. Star Rabbit Tracks works for pre-teens because they see understandable childhood icons - the Beatrix Potter rabbits - placed into adult situations and given adult roles. Kirk, Spock and McCoy translate into the captain, first officer and doctor of the Jackalope, Capt. Peter Rabbit, Commander Thumper and Dr. Harvey "Hopper" Smith played by Messrs Gilmour, Rungano and Liebman respectively.
So what is in it for adults? For me, its main value is in the fun of seeing childhood memories played out, but there is always a plotline that is worth following, although it can be a tad basic to an adult taste. Some of the outstanding episodes have been those when the players are allowed to stretch themselves as they did with the last episode of the first season, when Rabbit Tracks did a Trek/Beatrix Potter appropriation of The Wizard of Oz! It wasn't just an incredibly cute idea, it was well played by the voice actors who were given a real challenge and stepped right up to the plate to knock it over the bleachers!
This second season sounds interesting since they have a new writer, N. J. Rainford.
I'll be listening to this over this week.I'll let you know how it plays out!
Cheers
K